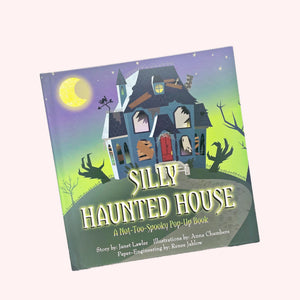 Silly Haunted House Pop Up Book
It's Halloween, and you are the special guest at a haunted house celebration party — provided you pass the test that the silly ghosts, skeletons, witches and spiders have in store! This Not-Too-Spooky Pop-Up Book springs to life in six whimsical spreads with movable scenes, interactive elements, and a new surprise on every page.
Story by Janet Lawler
Illustration by Anna Chambers
Paper Engineering by Renee Jablow
Winner of the 2015 GOLD Moonbeam Children's Book Award in Book Arts/Pop-Up/Cut-Out category!
Jumping Jack Press Pop-Up Books feature elaborate pop-ups and interactive elements designed to delight and charm readers of all ages.