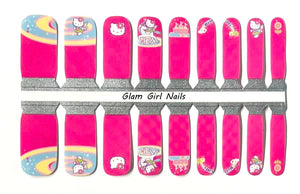 Kitty KIDS SIZED Nail Polish Stickers
These nail wraps are super cute and 100% nail polish! Made with non-toxic ingredients. There are 16 wraps in each set. No heat or tools are needed for the application. Just peel, stick and apply for a gorgeous manicure that lasts 7-10 days.
For best results: -Clean hands and nails of oils before application -Do not apply to skin, leave a little bit of room between the wrap and your cuticle. -Do not get your hands wet or use lotions for at least 1 hr. We recommend applying before bedtime so you don't forget! -Apply your favorite top coat for an even longer-lasting manicure. -To remove, gently peel off or soak in nail polish remover.